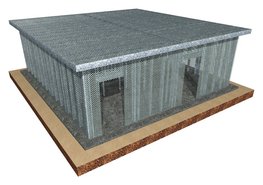 The am-cor Ferrocement System has a number of specialized construction applications:
Prefabricated Ferrocement modular buildings (medical, quarantine, guard, safe rooms, remote bases, etc.)
Military grade: Portable, quickly deployable, ballistic resistant panelized Building Kits
Radioactivity resistant shipping containers, warehouses, and depots, for nuclear waste transport, storage, and disposal
am-cor ExoStructures provide integrated and rehabilitation and restoration of existing buildings
Green, planned and self-sustaining Environmental Community developments
Coming Soon! The Fortified Home Series: survival, underground, ballistic resistant Home Kits
Want to know if a Ferrocement Kit can fulfill your needs? Please
for more information.