am-cor Kits are de­signed with DIY (Do It Your­self) con­tract­ors & own­er-build­ers in mind.
Choose from our Standard Kits, or cre­ate your own floor­plan and let us know about your pro­ject!
Do It Your­self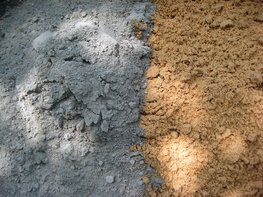 So you want to build your own house?
Yes, you can!
First, please read through:
Kit Contents, and see the
Project Checklist, and the
Pre­par­a­tion
In or­der to as­semble your Kit, you will need the fol­low­ing items: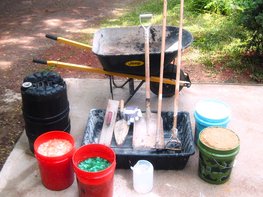 an am-cor Kit
Sand (build­er's sharp)
Wa­ter
Stand­ard Port­land ce­ment
Roof­ing (if you choose not to use an am­cor­ite™ roof)
Open­ings (doors & win­dows)

We can in­clude these as an Op­tion with your Kit
Please contact us with your pref­er­en­ces
Next up is labor. At the least, you will need two able-bod­ied in­di­vidu­als, who can read the in­cluded Field Manu­al and do ba­sic arith­met­ic. For a 1000 sq.ft. house like  Mille Moden  , a crew of 4-6 is good.
Kit As­sembly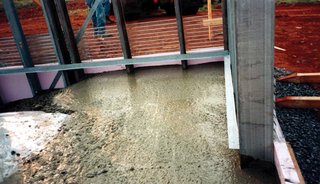 The wall, roof, floor & par­ti­tion pan­els which make up your Kit are light, and are de­signed to be lif­ted by two people.
First, line out and trench for your foot­ings, spread gravel in the trench to make sure its com­pletely level
Place the am-cor Foot­ing Tray pan­els in­to the trench, fact­ory made corner trays help make the found­a­tion square
Then ex­ter­i­or walls, am-cor pan­el place­ment is easy & fast. All pan­els are keyed to your Field Manu­al, and fit to­geth­er eas­ily.
Now you pour the floor slab, em­bed­ding the ex­ter­i­or wall pan­els in the slab. The pan­els re­place stand­ard slab edge form­work and re­bar re­in­for­cing, sav­ing a good bit of time, money, and ma­ter­i­al.
After you've placed the wall pan­els, you need to set your doors & win­dows. am-cor wall pan­els are pre­fab­ric­ated to the ex­act di­men­sions of your open­ings, so pla­cing your doors & win­dows is just a few screws with the screw­guns in­cluded in the Equip­ment Kit.  Mask ex­ter­i­or doors & win­dows be­fore am­cor­ite ap­plic­a­tion.
Next, you need to ap­ply the am­cor­ite™ struc­tur­al stucco coat. If you've nev­er stuc­coed be­fore, don't worry. The rough coat doesn't need to look pretty, it just needs to be mixed prop­erly (again, fol­low­ing the Field Manu­al) and ap­plied re­l­at­ively evenly.
From here you can in­stall roof­ing ma­ter­i­al, if your Kit calls for it.
Con­grat­u­la­tions, you've fin­ished the dried-in shell!
Fin­ish­ing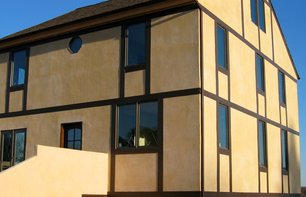 Now, fin­ish out the shell with stand­ard trades:
your choice of in­su­la­tion
elec­tric­al
plumb­ing
in­teri­or hard­ware & fix­tures (doors, cab­in­ets, lights)
in­teri­or fin­ishes (dry­wall & paint­ing)
ex­ter­i­or fin­ishes (stucco, brick, stone­work, sid­ing, etc.)
And that's it, a fin­ished Kit!
NB: Ser­vice in­stall­a­tion (elec­tric­al & plumb­ing) should be easi­er and cheap­er with the am-cor Sys­tem than with stand­ard con­struc­tion.  All walls in an am-cor Kit are hol­low, and rafters, joists, and studs are pre­punched for ser­vices - this means no drilling or chip­ping is re­quired.
What's Next
If you've made it this far, you'll be in­ter­es­ted in the Pro­ject Check­list & Sample Budget be­low.  Also be sure to check­out the Kit Assembly sec­tion, which has con­struc­tion de­tails. am-cor Field Manu­al ex­cerpts, and best prac­tices for each step above.
Have ques­tions or com­ments? Please contact us for more in­form­a­tion.