Kit Com­pon­ents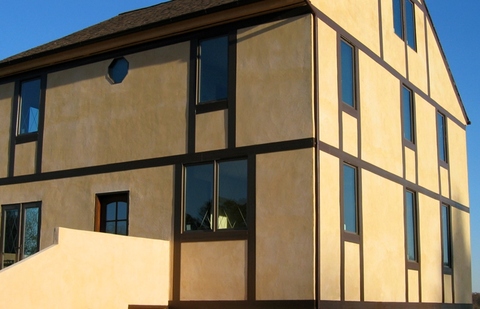 Each am-cor Kit is com­posed of mul­tiple pan­els. These pre­fab­ric­ated fram­ing pan­els fit to­geth­er quickly and eas­ily, and in­clude:
Pre­fab­ric­ated gal­van­ized steel Foot­er trays
Ex­ter­i­or walls, found­a­tion and above-grade
In­teri­or par­ti­tions & bear­ing par­ti­tions
Floors/ceil­ings
Roof fram­ing (gable, hip, flat/low-slope, ten­sion mem­brane, hy­per­bol­ic para­bol­oids)
Arches & de­tails
Columns/posts, beams
Open­ing head­ers
Bal­conies, over­hangs & can­ti­levers
Rail­ings, knee walls
Ver­an­das, patios, garden walls
Stairs: treads, risers, stringers, etc.
Please note: Roof­ing, weath­er­seal­ing, in­su­la­tion, fin­ishes, paints, etc. are sold sep­ar­ately.
Kit Ser­vices
Each Kit in­cludes the fol­low­ing ser­vices:
Co­llabora­tion with de­sign­er, ar­chi­tect, pro­ject en­gin­eer: Guid­ance and pro­fes­sion­al ad­vice to ad­just your plans to steel pan­el and fram­ing design, if ne­ces­sary
Guar­an­teed to conform to building code: Stand­ard de­tails (e.g.: foot­er, wall, roof, sec­tions), sealed draw­ings of struc­tur­al found­a­tion & fram­ing for your build­ing per­mit sub­mis­sion
Co­or­din­a­tion with loc­al code au­thor­ity: we help get­ting your per­mit, and can com­mu­nic­ate with your build­ing de­part­ment to en­sure ap­prov­al
Il­lus­trated Field Manu­al: you get links to all our on­line doc­u­ment­a­tion de­tail­ing Kit as­sembly, gen­er­al dir­ec­tions, and best prac­tices (also down­load­able as pdf for off­line view­ing)
Cus­tom­ized Pro­ject Manu­al: step-by-step in­struc­tions spe­cif­ic to your pro­ject, in­clud­ing di­men­sioned & de­tailed Found­a­tion Dia­grams, Wall/Roof/Floor/Stair dia­grams, In­su­la­tion pro­gram, etc.
Ship­ping setup: We provide a veri­fied bill of lad­ing & in­voice and load the Kit for FOB ship­ment, and ar­range with the ship­per/freight pro­vider (ship­ping cost paid by cli­ent)
Vis­it to your site by a Field Rep­res­ent­at­ive to give a tu­tori­al to you and your crew on pan­el as­sembly & am­cor­ite Fer­ro­ce­ment ap­plic­a­tion
Kit Ma­ter­i­als
In ad­di­tion the Ser­vices above, each Kit in­cludes:
am-cor pre­fab­ric­ated struc­tur­al fram­ing pan­els (types lis­ted above), made of:

Light gauge, car­bon steel, fact­ory as­sembled pan­els
Gal­van­ized (rust-res­ist­ant), struc­tur­al gauge min. strength: 30,000 psi.
Pre-punched for (con­cealed aka in-wall) ser­vice runs
All pan­els labeled & keyed to Field Manu­al

am­cor­ite™ struc­tur­al Fer­ro­ce­ment gel

Pat­en­ted ex­ter­i­or coat­ing for­mula
Ce­ment strengthen­er, re­du­cer, re­in­for­cer, and elast­i­cizer
In­creases work­ab­il­ity and strength of stand­ard Port­land ce­ment

Struc­tur­al Fasten­ers

Chro­mi­um plated (steel-to-steel, steel-to-wood, etc.)

Pre-Formed De­tails

Gal­van­ized steel eave, sof­fit, and rake mem­bers

Equip­ment Kit (for DIYers), with ex­ample tools you'll need to as­semble the Kit, such as:

Bat­tery-op­er­ated power screw guns
Levels, squares, stringlines, etc.
Gloves & goggles
Trow­els & mix­ing basins
Snips & grinders
etc.