Overview
"We offer an advanced & green solution to today's construction industry: Standard construction is just too expensive, time-consuming, and unsustainable; our Ferrocement am-cor System is the answer."
- Angus W. Macdonald, Inventor & CEO
What Is It?
Ferrocement = highly reinforced, dense & thin steel & cement shells; originally used for boat hulls.
The am-cor System™ is a modern, Ferrocement construction system, featuring:
true composite, integrated steel & cement structures
unibody, seamless, exterior stress-skins
high flexibility & adaptability
high strength-to-weight ratio
STRENGTH
Supports high snow-loads
Long spans using less material
LOW COST
Save 15-20% over standard building construction costs
Complete in 2/3 time of standard construction
Save 10% annually on standard building operation costs
DURABILITY
Flood-resistant
Extremely low maintenance over building's lifetime
No rust, no deterioration
GREEN
Sustainability: approximately 40% smaller carbon footprint
Far less material used than standard construction: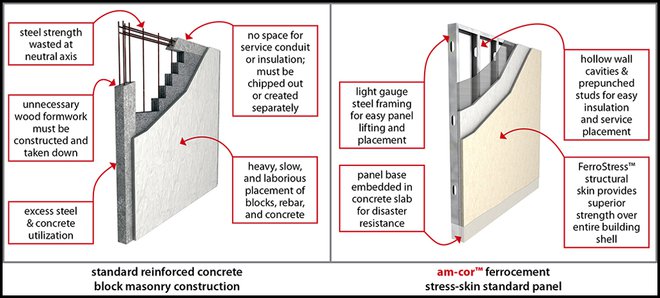 How It Works
am-cor Kits conform to: ASTM (American Society for Testing and Materials) standards, UL (Underwriters Laboratories) fire resistant assemblies, and the IBC (International Building Code)
PREFABRICATED KITS
Entire building delivered as a prefabricated, panelized, pre-engineered Kit
Structure built quickly & efficiently, no cutting or drilling
Easy customization & expansion
Fast, trade-friendly, standard tenant build-out
Zero construction waste
On site builder crew instruction included with every Kit
APPLICATIONS
Commercial: retail, restaurants, hotels & shops, offices, medical & educational
Industrial: warehouses, storage facilities, agriculture, medium-span
Residential: affordable, single-family, multi-family, dormitories
Reconstruction/Military: rapid-response, safehouses, ballistics-resistance
EXAMPLES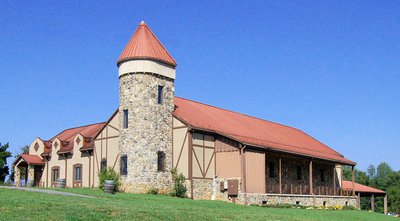 COMPLETED
30,000 sq.ft. 3 story earth-bermed agro-industrial am-cor winery & warehouse with half-timber and stone veneers
ENERGY SAVINGS
Annual minimum savings of US $30,000 for HVAC
---

UNDER CONSTRUCTION
50' Free span: flexible interior for assembly and community use.
TORNADO RESISTANCE
High wind resistant engineering in OK, USA
---
See our Building Types Gallery for more examples.
Our Goals
am-cor inc. aims to change the world one building at a time. We believe that through a combination of global thinking, environmental awareness, and construction innovation, people can inexpensively build green, sustainable, and beautiful buildings that will withstand natural disasters, rising energy prices, and the test of time.
What is the am-cor System?
The am-cor System™ is a simple, fast, affordable way to build green & sustainable buildings.
Architect Angus W. Macdonald invented and patented the am-cor Unified Steel & Cement Structural System™ after searching for a better alternative to standard construction methods. He wanted something that was simple to construct, quick to erect, cheap to build, and above all, beautiful, durable and sustainable.
Why use the am-cor System?
The am-cor System is:
Inexpensive
am-cor construction is less expensive than: standard reinforced concrete block & masonry, precast, metal buildings, stick-built, SIPS, etc.
Fast To Build
am-cor Kits are: prefabricated & pre-engineered, arrive ready for immediate assembly, and are assembled in a fraction of standard construction time
High Quality
am-cor buildings are better construction for a lower price: disaster resistant (hurricane, fire, tornado, earthquake, flood); mold, mildew, insect & vermin resistant (termites, rats, etc.); and environmentally friendly
Green & Sustainable
am-cor shells are made of 100% recyclable material, and have an approx. 40-60% lower carbon footprint than standard construction; am-cor buildings are inherently sustainable, and require virtually zero maintenance
Tried & True
The am-cor System is a proven system: am-cor structures have weathered tornadoes in USA's Tornado Alley, hurricanes in the Caribbean, and floods on Virginia's Eastern Shore. Our building shells are internationally code compliant, and have been approved by the US Army Corps of Engineers for construction in storm surge areas. The first structure was built in 1996. Its Ferrocement construction has withstood the test of time, with zero structural maintenance & minimal exterior maintenance.
---