Do-It-Yourself
am-cor Kits are designed with DIY (Do It Yourself) contractors & owner-builders in mind.
Choose from our Standard Kits, and let us know about your project!
Do It Yourself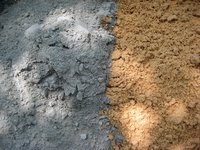 Yes, you can!
First, check out Kit Contents, and see the Project Checklist.
Next, make sure you understand the example Construction Sequence.
Preparation
In order to assemble your Kit, you will need the following items:
an am-cor Kit
Sand (builder's sharp)
Water
Standard Portland cement
Roofing (if you choose not to use an amcorite™ roof)
Openings (doors & windows)

We can include these as an Option with your Kit
Please contact us with your preferences
Next up is labor. At the least, you will need two able-bodied individuals, who can read the included Field Manual and do basic arithmetic. For a 1000 sq.ft. house, such as The Mille Moden, a crew of 4-6 is good.
Kit Assembly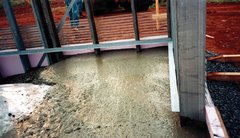 The wall, roof, floor & partition panels which make up your Kit are light, and are designed to be lifted by two people.
Panel assembly is easy & fast. All panels are keyed to your Field Manual, and fit together easily.
Now you pour the floor slab, embedding the exterior wall panels in the slab. The panels replace standard slab edge formwork and rebar reinforcing, saving a good bit of time, money, and material.

After you've assembled the panels, you need to set your doors & windows. The panels are prefabricated to the exact dimensions of your openings, so placing your doors & windows is just a few screws with the screwguns included in the Equipment Kit.
Next, you need to apply the amcorite™ structural stucco coat. If you've never stuccoed before, don't worry. The rough coat doesn't need to look pretty, it just needs to be mixed properly (again, following the Field Manual) and applied relatively evenly.
From here you can install roofing material, if your Kit calls for it.
Congratulations, you've finished the dried-in shell!
Finishing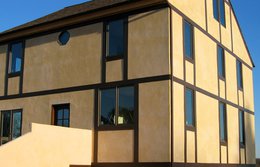 Now, finish out the shell with standard trades:
your choice of insulation
electrical
plumbing
interior hardware & fixtures (doors, cabinets, lights)
interior finishes (drywall & painting)
exterior finishes (stucco, brick, stonework, siding, etc.)
And that's it, a finished Kit!
NB: Service installation (electrical & plumbing) should be easier and cheaper with the am-cor System than with standard construction.  All walls in an am-cor Kit are hollow, and the studs are prepunched for services - this means no drilling or chipping is required.
What's Next
If you've made it this far, you'll be interested in the Project Checklist & Sample Budget below.  Also be sure to checkout the Kit Assembly section, which has construction details. am-cor Field Manual excerpts, and best practices for each step above.
Have questions or comments? Please contact us for more information.
---